HAPPY CEMETERY
Swisher County, Texas

In Feb 1912, the Happy Cemetery was surveyed and located in the Southwest corner of J. F. White's home sections. Soon after the Catholic portion was added. A Cemetery Association was organized an the following belong to this: Mr. and J. F. White, Mr. Miller, Mrs. Cook, Mr. And Mrs. P. J. Neff, Mrs. Malcolm, Mrs. Cowan, and Mrs. Swearengen.
Cemetery records are kept at the Happy City Hall, 106 No Talley Ave, Happy, TX 79042.
The Happy Cemetery was given a Texas Historical Marker.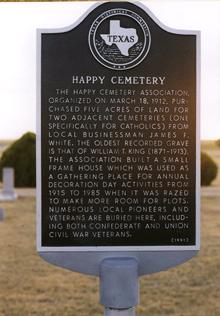 You are welcome to review the older files if you are looking for something you have seen here before but for the most current information, please look on FindaGrave.
Thanks to Judy (Whitley-Crotty) Fox  for the use of her pictures!
East Half of Old Section