2009 Matagorda County
Genealogical Family History Essay Winner

Jack & Pauline Inman
Written by Katherine "Katee" Endres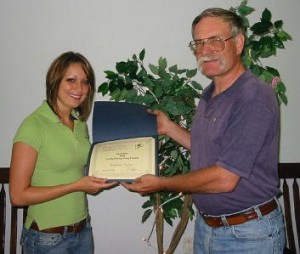 MCGS President, Joseph Cook, presenting Katee's
certificate at the meeting on May 25, 2009.

"Jack is as strong as the
steel he has formed over a hot forge most of his life, but so soft
inside when it comes to his family.  Nothing could harm us when Pop was
around.  When we are sad he holds us with his calloused hands and makes
it all better.  When we are happy or successful, he laughs and
celebrates with us.  He is a man of few words, but when he does say
something, you better listen 'cause it is important" is how my
grandmother explains her feelings for her step-father, Jack Inman.
Born in Seminole, Oklahoma on
September 24th, my great grandfather, Jack Wayne Inman, is one of the
most interesting people I have ever learned about.  His parents were
Bert and Leta [Presley] Inman, yes- she was a distant relative to 'The
King of Rock'n'Roll' Elvis Presley.  Jack finished high school in
Haskell, Oklahoma, and then later attended Bacone College, a
predominately Native American school in Muskogee, Oklahoma.  During the
summer of 1948, he married Jane McSpades and moved to Tulia, Texas,
where he still resides today.  Jack and Jane conceived three children:
Ronald Wayne, Donald Lee, and Janna Kay.  They divorced, and later he
remarried my great grandmother, Pauline (Polly) Belcher.  They got
married on July 2, 1970.  Pauline came into the marriage with two
children, Paula Ann, my grandmother, and her brother Thomas Earl.  They
now had a joined family of five.  "I sure got lucky when [Jack] married
mom, Tom, and I.  He has lots of room in that great big old heart of
his," says my grandmother. 
On December 25, 1948, Jack's
parents Bert and Leta moved to Tulia so that Jack and his father could
open a partnership doing custom harvesting and operating Inman Welding
and Blacksmith Shop in Tulia, Texas.  Rumor had it that he had actually
won the business in a poker game, but Jack believes the rumor to be
false. 
Throughout the year, Jack
would travel with the equipment and his harvest hands from Texas to
Canada harvesting wheat, maize, and corn.  When he wasn't harvesting, he
would return home to toil in the shop welding and doing blacksmith's
work.  He continued this until their custom harvesting business was
discontinued forcing him to work in the shop year-round.  The shop built
trailers, plows, and rolled discs for farm tractor plows.  They also
bent horse shoes and did just about anything to do with metal. 
Jack once told my grandmother
that "[he] love[s] both welding and blacksmithing, but it sure [gets] so
hot and so smoky that welding is probably [his] favorite."  He uses coal
for the forge and has to travel all the way to Arkansas to get a special
coal that smithy's use called anthracite.  Blacksmith's also use
bellows, anvils, a 50 pound hammer operated by a foot pedal, and have a
water tank behind the forge used to cool the fiery hot steel.  Sometimes
farmers would bring their newly bought equipment in and would get my
great-grandfather to put a hard surface on the plows to keep them from
wearing.  The surface Jack put on them was used on the bottom for harder
soils, and the top for sandy ground.
Bert Inman, Jack's father,
retired in 1974.  With Bert's retirement, Jack bought out his half of
the business to be the full owner.  Tulia High School wanted to set up a
welding course at the high school and went to Jack for help; he helped
set up the course and taught it for a while.  He really enjoyed teaching
the course for two reasons: he was doing what he loved, and he enjoyed
being around the lively young people.
About a year and a half ago,
Jack sold most of his shop equipment and the building where his shop had
once been.  This action made everyone believe he was headed for
retirement, but they were wrong.  "I don't believe he will quit working
until the day he dies.  That's not Jack's way," is how my grandmother
explains her father's working habits.  Instead of retiring like everyone
thought he would, he opened a smaller shop closer to home and was back
in business within months.  He still welds today; mostly working on
feeders and hay transport trailers.  He is currently repairing a feed
truck that has four twenty-four inch augers that run from front to back
to mix the feed as the truck drives to the cattle pens, then a side dump
allowed the feed to be put in the cattle feeders.
"It is hard work being a
smithy and the years of working over the forge have taken a toll on
Jack's poor ole worn out body."  Today, there are few true blacksmith's
left in Texas, especially in the panhandle where my great-grandfather
resides.  It is becoming a lost art, which truly makes me proud to say
that my seventy-eight year old great-grandfather, Jack Inman, is a Texas
Blacksmith, and is still working hard to this day.
Courtesy of Katherine "Katee" Endres