As promised (finally), here is the information about the quilt.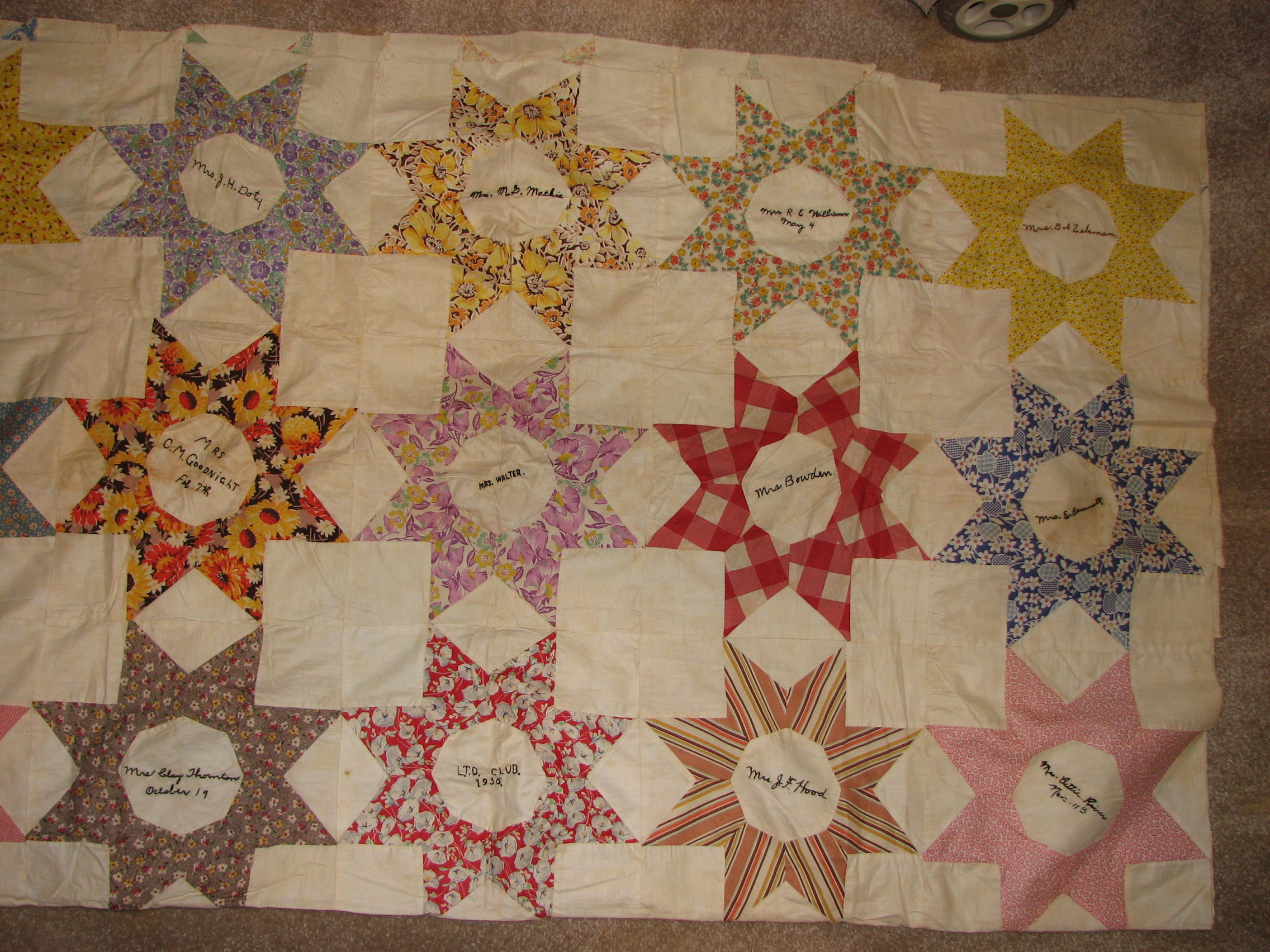 This quilt was given to me by Madalyn Stanford Williams (1919 – 2001.)  The quilt was given to her mother, Mrs. M. G. (Emma) Stanford (1889- 1976) in 1936 as indicated by the embroidered date in the center of the quilt.  Mr. Stanford was a well-known barber in Tulia,Texas, and Mrs. Stanford was an active member of many ladies organizations.  Some were church related (Methodist) and others were civic.  She was president of several of these clubs.

According to Mrs. Stanford's daughter, Madalyn, this quilt was given to her mother by some organization as thank-you gift for being president of a club with the initials "L.T. D."   The letters are not very clear, so perhaps the "D" is an "O."

This is an example of a friendship quilt.  Each member of the group was given a pattern for a quilt block.  Everyone made a block and embroidered their name on it.  On this quilt the ladies also recorded their birthdates on the block, but only one woman was brave enough to put down the year of her birth.

According [to] "Miss Emma's" granddaughter, Lou Ann Wimberly Williams, the embroidered names on this quilt were of prominent ladies who contributed greatly to the history of Tulia and the Panhandle of Texas.  One of the most recognized names is that of Mrs. C. M. Goodnight.

– Martha Council
A woman named Cathy Bradley is working on repairing the quilt. It was given to her by Martha Council. Mrs Bradley is researching the history or the quilt. Please contact me if you are a descendant of any of these women, the quilt, or the group these women belonged to.
The following names are on the quilt:
Grace Cline (or Clisse or Clime)
Mrs. Bob Zelaman (Zelamon)
Mrs. Walter (I was told she was the chairman of the group)
Mrs Bettie Rainer (Raines)
Mrs Lansted (very had to read)